Interrogatories
Why choose wikiHow?
When you see the green expert checkmark on a wikiHow article, you know that the article has received careful review by a qualified expert. If you are on a medical article, that means that an actual doctor, nurse or other medical professional from our medical review board reviewed and approved it. Similarly, veterinarians review our pet articles, lawyers review our legal articles, and other experts review articles based on their specific areas of expertise.
How to Make Interrogatories
Three Parts:
Interrogatories – written questions to the other party in a lawsuit to be answered in writing under oath – typically are one of the first parts of the discovery process in civil litigation. Shortly after the initial complaint is filed, you can send interrogatories to the other party without seeking court permission to do so, except in some small claims courts where you must first ask the judge. To make interrogatories, use standard questions typically asked in cases like yours as a guide to draft questions related to the dispute that gave rise to the lawsuit.
Steps
Formatting Your Document
Look for samples and templates.

Although you don't have to file your interrogatories with the court, the document itself still must be formatted the same as other court documents. Most courts have a basic template for interrogatories and other discovery documents.

You may be able to find a PDF sample or template of basic interrogatories on the court's website. If the court doesn't have a website or doesn't have documents available there, ask the court clerk or talk to the librarian of the public law library, typically located in the courthouse.
Keep in mind that if you don't follow the template correctly, you may have difficulty understanding the responses you receive from the other party. While courts typically require the party responding to interrogatories to retype the question before providing their answer, this isn't always the case.
You always should number your interrogatories so it's clear that you haven't asked more questions than are allowed by the court's rules, and so it's easy to line up the questions with the answers provided by the other party.

Check the court's rules of procedure.

Before you begin drafting your document, look for formatting rules as well as rules specifically related to interrogatories. While you may not find formatting rules, most courts place a limit on the number of interrogatories you can make.

Knowing the maximum number of interrogatories you can include will help you focus your work as you begin drafting your questions so you don't end up drafting multiple questions that you won't be able to use.
The rules also will tell you how long the other party has to respond, so you can mark this deadline on your calendar once you've had the interrogatories delivered to them.
You also may be able to find useful information regarding instructions for writing or responding to interrogatories that have been set for the court where your lawsuit is taking place.

Create your caption.

The top of the first page of your interrogatories must include the same caption that appears at the top of the first page of every document that has been filed with the court in your case.

This caption should look exactly the same as the caption on every other document. You can copy it directly from the complaint or any other document filed with the court.
Double-check to make sure you've written the title of the case correctly and have the right case number. Particularly if the other party is represented by an attorney, this information will tell the law firm who needs to answer the interrogatories.

Write your introductory paragraph.

If you've found sample interrogatories, you typically can copy the introductory paragraph verbatim, substituting your own name as necessary. This paragraph simply states who you are and what the purpose of the document is.

The introductory paragraph typically identifies you, the party to whom you are delivering the interrogatories, and includes a request that they answer the interrogatories fully under oath.
Typically this paragraph also includes a reference to the court's procedural rule that governs interrogatories.
For example, you might write "Plaintiff, Sally Sunshine, requests that Defendant, Melanie Moon, answer the following interrogatories fully, under oath, and in accordance with Rule 33 of the Federal Rules of Civil Procedure."
If you have instructions, include a statement that answers should be made subject to the instructions below.

Include instructions.

The court may have sample interrogatories that include specific instructions regarding how questions must be answered and what objections can be used.

Avoid including any instructions that haven't been approved by the court in which your lawsuit is being heard.
Each court has its own rules regarding how interrogatories must be answered, and while they typically are similar among all courts, you don't want to include any instructions that may apply to one court but not to another.
If you've found sample interrogatories provided by a law firm or a legal form book and are working from those, keep in mind that the instructions included may not be approved by the court where your lawsuit is filed.

Create your signature block.

Generally, the signature block must include a line for your signature with your printed name and contact information underneath. Follow the formatting of other interrogatories used in cases in the same court regarding spacing and indentations.

Typically you'll use the phrase "Respectfully submitted," followed by a blank line for your signature.
Directly below the line, type your name. Directly below that, include your address, phone number, and email address in a block – the way you would write your address on an envelope to mail a letter, with your phone number on the line below.
Include your email address if you want the other party to communicate with you using email, but keep in mind that an email address typically isn't required.
If your email address is frivolous or overly personal (such as ""), you probably don't want to use it for communications regarding a lawsuit.
Drafting Your Questions
Consider defining key words.

The words you need to define will vary based on the subject matter of the litigation, but generally, a definitions section will allow you to write simpler questions that don't involve having to repeat what you mean by particular words and phrases that appear in multiple questions.

For example, if your lawsuit involves a car accident, you may choose the word "Incident" to refer to the collision. Avoid simply using a word like "accident," because it implies fault (or no fault, as the case may be).
Your definition of the word "Incident" would describe the collision between two cars on the specific date.
In a slip-and-fall case, you might also define words like "Restaurant" (the place where the slip-and-fall occurred, with a specific address) and "Dining Room" (the specific location of the incident within the restaurant).
Keep your definitions as narrow as possible to avoid getting an answer that you can't use effectively to prove what you want. For example, if you fail to define "Restaurant" as a specific location, instead using it to refer to a place where people purchase food, you haven't connected any of the questions or answers to the specific place where the injury occurred.
Whenever you use a word you specifically defined in your questions, you should capitalize that word so the other party understands it's being used as you defined it, and not in its generically understood sense.
To this end, you also should avoid using any word you've specifically defined as a generic word, as this could cause confusion.

Use samples as guides.

You likely have found a number of sample or form interrogatories that you can copy in your own document. However, examine each sample question in light of your own case and the information you need to know, and avoid copying those questions verbatim if they have little or no bearing on your actual case.

Keep in mind that even cases involving the same subject matter will inevitably have their differences. For example, even though you're looking at sample interrogatories for a car accident case, if the other driver wasn't driving a company car you typically won't need to include questions regarding that person's employment.
Avoid using language from a sample interrogatory verbatim if you don't understand what it's asking.
In the first place, if you don't understand it, there's a likelihood the other party won't understand it either. But more importantly, if you don't understand the question you're asking, you don't know what you'll get in response or whether that answer will have any importance to your case.
Sample questions may give you a good idea of questions you should ask, but it's generally a good idea to phrase your interrogatories in your own words.
Keep in mind that you don't necessarily have to use fancy language or legalese in your interrogatories, and you may get better, more usable responses to questions written in simple, plain language.

Include identification and background questions.

The first few questions you list should establish who is answering the interrogatories and general information about them such as where they live and what they do for a living.

The types of questions you ask here will vary depending on the type of lawsuit you have. Certain aspects of a person's background and identity simply won't be relevant for some cases.
For example, if your lawsuit revolves around a car accident, you want to know if the person has a driver's license, and if they've ever been cited for a traffic or moving violation. However, questions about their job are likely irrelevant (unless they were driving a work vehicle).
In contrast, if you're suing an employer for wrongful discharge, whether the person has a driver's license is irrelevant, but their position in the company is important to establish.

Ask questions specifically related to the claim.

The primary purpose of interrogatories typically is to uncover evidence that you can use to support your claims at trial. The remainder of your interrogatories should be aimed at learning as much of this information as possible.

For example, if you are involved in a lawsuit filed as a result of a car accident, you need to ask questions concerning the ownership of the vehicle the other party was driving, any insurance policies, and property damage caused by the accident.
You also want the other party's description of what happened and how the accident took place, including their destination, what they were doing immediately before the accident happened, and how fast they were driving.
Keep in mind that you're just looking for information here, not specific documents or other physical evidence. For example, if you're suing a restaurant after you slipped and fell there, you might ask if the restaurant has a security camera – but don't include a statement that if there is a security camera the restaurant should produce the tape. Save that for a request for production, later.

Seek additional information.

Your final interrogatories typically ask if there are other witnesses who potentially have information, or documents that have relevance to your claim. If the other party has knowledge of such witnesses or documents, they must let you know about them – but only if you ask.

You might ask the other party to provide you with names and contact information for any eyewitnesses to the incident. They must provide any information they know.
If you're suing your employer, you might ask about documents or written policies related to your employment, but your interrogatories should be confined to establishing whether these documents exist and are in your employer's possession. You can request copies of them later.
Serving the Other Party
Make copies of your interrogatories.

Once you've proofread and finalized your document, print it out and sign it. Then you'll need to make at least three copies – one for your own records and two to send to the other party so they can answer.

Remember to make your copies after you've signed the document, so all copies include your signature.
Date your document the day you sign it – don't post-date it, even if you won't be able to deliver the documents to the other party until later.
If you know several days will elapse between the date you've finished your interrogatories and the date you can finally send them to the other party, wait to sign them until you're ready to send them to avoid any confusion.
Keep in mind that if there are several parties involved in the case, you may have to send them copies of the interrogatories as well, even though they aren't expected to answer them.

Have the other party served.

You don't have to file your interrogatories with the court. However, you do have to use the court's legal process of serving the other party, rather than simply giving the interrogatories to them yourself.

You can complete service by having anyone over the age of 18 who is not a party to the case deliver the interrogatories to the other party (or their attorney) by hand. This person need not be a sheriff's deputy or employee of a private process-serving company. Although you always have the option of hiring a deputy or a professional, it's typically overkill to simply serve interrogatories.
In many courts you also have the option of completing service by mailing the interrogatories using certified mail with returned receipt requested.
The green card you get back when the interrogatories have been delivered serves as your proof of service.

File proof of service with the court.

The court clerk will have a proof of service document that can be used anytime you serve a document on anyone. Once the other party has been served with your interrogatories, it's good practice to file the proof of service document with the court even though you didn't have to file the interrogatories themselves.

Filing proof of service may be required by some courts. Even if it isn't required, it's good practice especially if you anticipate the other party won't respond to your interrogatories by the deadline.
If you served your documents using certified mail, make a copy of the green card you received and attach it to the proof of service document you file with the court. Keep the original card for your records unless instructed otherwise by the clerk.

Wait for responses.

Each court has its own rules regarding deadlines for discovery. Typically, a party only has 30 days from the date they receive the interrogatories to have you served with their written responses.

If you don't receive responses by the deadline, you may have to file a motion with the court asking the judge to compel the other party to respond to your interrogatories.
Before you file such a motion, consider sending a letter to the other party letting them know that the deadline has passed and you have not yet received their responses.
Tell them that unless you receive responses immediately (or within a few days), you'll have to file a motion to compel.
This courtesy reminder may be especially beneficial if the other party is represented by an attorney. Keep in mind it's entirely possible that your interrogatories were simply lost in the shuffle of case documents and requests – the other party may not be intentionally refusing to respond.
Video: Rules to follow when answering Interrogatories
How to Make Interrogatories images
2019 year - How to Make Interrogatories pictures
How to Make Interrogatories forecast photo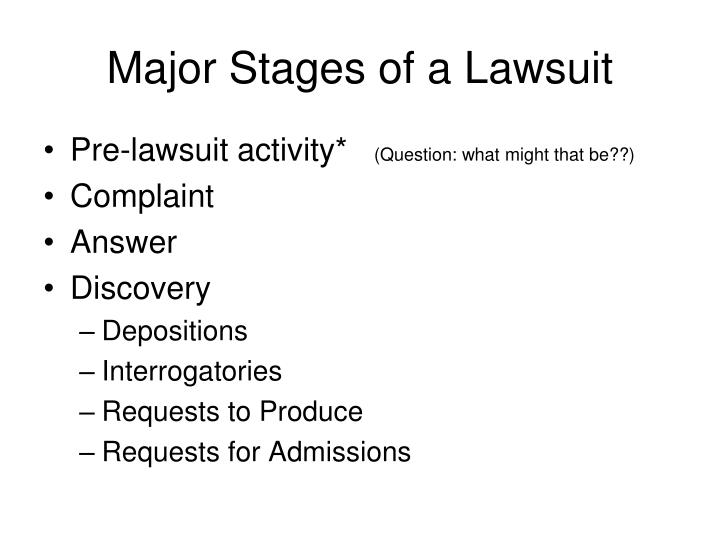 How to Make Interrogatories pics
How to Make Interrogatories new photo
picture How to Make Interrogatories
Watch How to Make Interrogatories video
Communication on this topic: How to Make Interrogatories, how-to-make-interrogatories/ , how-to-make-interrogatories/
Related News
Ovarian Cancer
1 in 10 U.S. Beaches Fails Bacteria Test
How to Keep Bees Out of Birdhouses
5 Best Online Deals: Pet Products
Is Exercising Causing Your Depression
What Is Mum Guilt', Exactly – And Why Do We Suffer From It
5 Ways to Cook Cod
How to Inspect a Nail Salon As a Client
Pineapple Mango Smoothie
9 Products to Help You Go Tights-Free This Spring
How to Build Grinch Gadgets
How to Get Your Hen to Become Broody
Two Genes Might Help Predict Breast Cancer Survival
How to Publish a Book for Your Business
Top 20 Best Tactical Hats For Men – Masculine Outdoor Apparel
Date: 01.12.2018, 18:46 / Views: 41434
---